Customer Support
General Printing Guidelines and Settings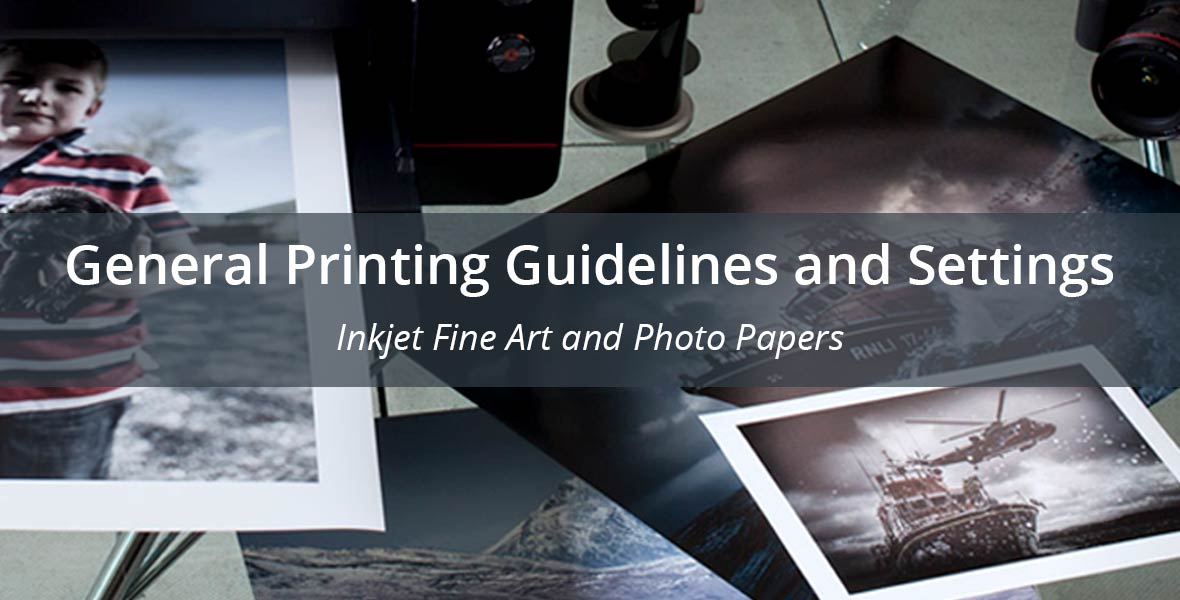 We have put together a few tips for getting the best results from your paper and printer. This is just a starting point, and you can contact us for more detailed advice if necessary.
Printing with Photo and Fine Art inkjet papers:
Print on the coated side of the paper
Hold the paper by the edges to avoid marking the surface
Resin Coated (RC) and Fine art papers will be touch dry after printing.
Leave papers to dry for a minimum of 12 hrs (glossy) and 24 hrs (Matte / Fine Art) before mounting or framing.
Always print using 'Best' or highest' quality in the print set-up.
Use 1440dpi, there is no need to print generally at 2880dpi, it will use more ink, and your eye won't see any difference.
The settings here are suggested when printing directly from an application such as Adobe Photoshop.
Where possible we recommend you use an ICC profile for your paper and printer combination, if one is available, and the 'Photoshop Manages Colours' option. The following Links to manufacturers website provide ICC profiles to download and further instructions on printing with ICC profiles and settings:
https://www.innovaart.com/icc-profiles-1/
http://www.hahnemuehle.com/en/digital-fineart/icc-profile.html
If there is no ICC profile available for your printer / paper combination, we suggest you use generic settings and the 'Printer Manages Colour' option initially to see what results you get. The list below includes generic media terms for most manufacturers, if there is not an exact match to the options provided by your printer, simply select the closest match:
Fine Art Papers with Smooth Matte Surface; Velvet Fine Art / Watercolour Radiant White / Archival Matte / Enhanced Matte / Premium Pro Matte Paper
Fine Art Papers with Rough Textured Matte Surface; Textured Fine Art / Watercolour paper / Velvet Fine Art
Glossy or Semi Gloss Fine Art Photo Papers and Resin Coated Inkjet Photo Papers; Premium Photo Paper Glossy 2 / Semi-gloss / Lustre / Baryta
Quality Setting: Highest / 1440dpi
Rendering Intent Setting: Perceptual
Alternatively you can use the pre-installed Epson / Canon / HP paper profiles which are the equivalent manufacturer's paper to the one you are using via Photoshop – these are installed when you add the printer driver and will appear at the top of the profile drop down list in Photoshop.
If you need more specific help, or further details, please contact us by phone: 0203 968 3333 (9am – 5pm, Monday – Friday) or click here to send us an email.